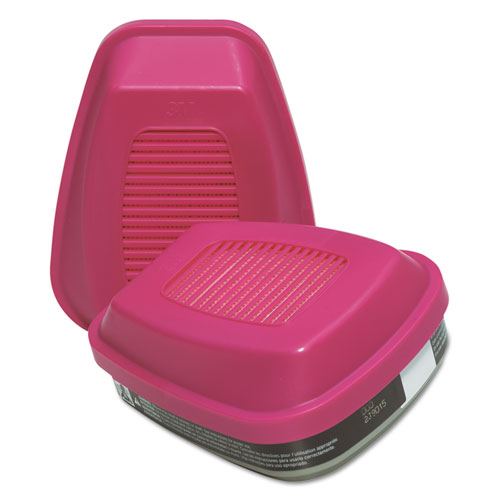 OUT OF STOCK
Manufacturer 3M/COMMERCIAL TAPE DIV.
Description
Helps provide protection against certain organic vapors and particulates in a variety of environments. The cartridge/filter combination may be used for respiratory protection from certain organic vapors and non-oil and oil particulate concentrations up to 10 times the Permissible Exposure Limit (PEL) with half facepieces or 50 times PEL with quantitatively fit tested full facepieces. Not for use in environments that are immediately dangerous to life or health (IDLH). Recommended applications for the cartridge/filter include chemical clean-up, chemical compounding, chemical transfer, laboratories, and pesticide application. Inventory needs and training requirements for safety equipment are reduced because this respirator cartridge selection works for many different applications. This organic vapor cartridge/filter combination works with 3M™ Half and Full Facepieces 6000, 7000 and FF-400 Series with bayonet attachment holders. Color code "Magenta/Black" in the NIOSH system. Filter Type: Organic Vapor; Particulates; Filtration For: Non-Oil Particulates; Oil-Based Particulates; Organic Vapors; Rating: P100; For Use With: 3M™ Full Facepiece Series 6000, 7800, FF-400, Half Facepiece Reusable Respirators Series 6000, 6500, 7500, Scott™ AV-3000 HT Facepieces, AV-3000 SureSeal Facepieces.
Specifications
IMPORTANT: This 3M product must be used in accordance with OSHA regulations, warnings, and limitations that accompany each item.
Organic Vapors; Non-oil Particulates; Oil-Based Particulates
Respirator Cartridges & Filters-Cartridge/Filter
Post-Consumer Recycled Content Percent
Pre-Consumer Recycled Content Percent
Total Recycled Content Percent